20 Essential Key Learnings: Sales Strategies from The Ultimate Sales Machine
Discover the 20 essential sales strategies that can transform your business. Read our analysis of The Ultimate Sales Machine by Chet Holmes and learn how to improve your sales process today.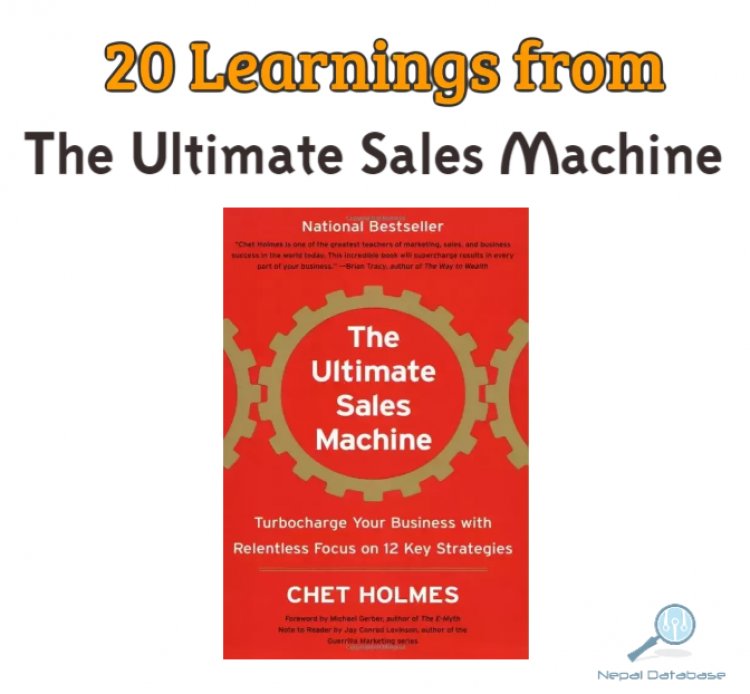 The Ultimate Sales Machine
"The Ultimate Sales Machine" by Chet Holmes provides a comprehensive guide to building and improving a successful sales process. Here are 20 important learnings from the book:
Prioritize Time: Prioritize and focus on high-priority tasks that drive results, and avoid distractions.
Power of Three: Identify and prioritize three critical tasks to accomplish each day to stay focused.
Strategic Planning: Develop a strategic plan to achieve your business goals and objectives.
Hiring Top Talent: Focus on hiring the right people and provide them with training and development to succeed.
Education and Continuous Learning: Invest in ongoing training and education for yourself and your team.
Setting Goals and Tracking Progress: Set and track both short-term and long-term goals to drive success.
Lead Generation: Use a mix of strategies, such as referrals, advertising, and targeted marketing, to generate new leads.
Relationship Building: Build relationships with prospects and customers by providing value and exceptional service.
Effective Sales Presentations: Create compelling presentations that resonate with your audience.
Overcoming Objections: Develop techniques for handling objections and closing deals.
Closing Sales: Use effective strategies to close deals and convert leads into customers.
Leveraging Technology: Use technology to streamline processes and improve productivity.
Focus on Excellence: Create a culture of excellence within your team and organization to drive success.
Metrics and Data: Use metrics and data to track performance and make informed decisions.
Creating Systems: Implement systems and processes to streamline operations and improve efficiency.
Sales Funnel: Develop a sales funnel to move leads through the sales process and convert them into customers.
Referral Marketing: Use referral marketing to generate new leads and customers.
Follow-Up and Follow-Through: Follow up and follow-through with leads and customers to build relationships and close deals.
Importance of Branding: Develop a strong brand to differentiate yourself from competitors and build trust with customers.
Collaboration and Communication: Foster collaboration and communication within your team and organization to drive success.
Overall, "The Ultimate Sales Machine" offers a comprehensive guide for anyone looking to enhance their sales skills and increase revenue. By applying these learnings, individuals and organizations can build a solid foundation for sales success and achieve their business objectives.