Nepal's Provincial Delights: Himalayas to Terai Treasures
Nepal's provinces boast diverse allure, from Province No. 1's cultural richness and eastern natural splendor to Lumbini's sacred Terai sanctity, while Gandaki Province in the heartland beckons with its mesmerizing beauty and trekking vistas.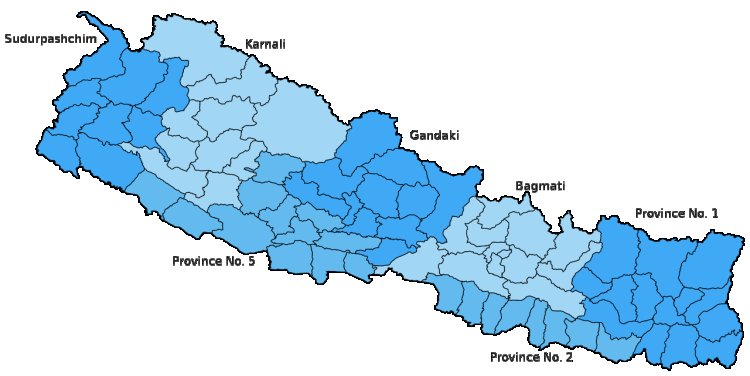 Nepal's Province
Introduction:
Nepal, a landlocked gem nestled in the heart of the Himalayas, is a nation of incredible diversity. From the towering peaks of the Himalayan mountains to the lush plains of the Terai region, the country is divided into seven provinces, each with its own unique character and allure. In this brief overview, we'll take you on a journey through these provinces, from the vibrant capital city of Kathmandu in Bagmati Province to the remote and rugged landscapes of Karnali Province in the northwest. Join us as we explore the rich cultural tapestry and natural beauty that define Nepal's provinces.
Province No. 1
Capital: Biratnagar

Description: Located in the eastern part of Nepal, Province No. 1 is known for its rich cultural diversity and natural beauty. It includes the eastern Terai plains and stretches up into the eastern Himalayas, offering a mix of landscapes from fertile plains to lush hills and mountains. It's major cities are Itahari, Dhankuta, Ilam.
Capital: Janakpur

Description: This province, situated in the southern part of Nepal, encompasses the flat and fertile Terai region. The major cities of this province are Birgunj, Bara, and Siraha. It's known for its agricultural importance, as well as its historical and cultural significance, particularly related to the birthplace of Lord Rama's consort, Sita, in Janakpur.
Capital: Hetauda

Description: Bagmati Province is home to the capital city, Kathmandu, making it the political and cultural heart of Nepal. The major cities of this province are Kathmandu (the national capital), Lalitpur, and Bhaktapur. This province includes the Kathmandu Valley, which is famous for its rich history, ancient temples, and vibrant urban life.
Capital: Pokhara

Description: Situated in the central part of the country, Gandaki Province is known for its stunning natural beauty. The major cities of this province are Tansen, Baglung, and Waling. The province includes the Annapurna and Manaslu mountain ranges, making it a prime destination for trekking and adventure tourism.
Capital: Butwal

Description: Lumbini Province holds immense religious significance as it is the birthplace of Lord Buddha in Lumbini. It encompasses the Terai region and the picturesque Rupandehi district. The major cities of this province are Siddharthanagar (Lumbini City), Bhairahawa, and Taulihawa.
Capital: Birendranagar

Description: Located in the northwestern part of Nepal, Karnali Province is known for its rugged terrain, remote villages, and pristine natural beauty. The major cities of this province are Surkhet, Jumla, and Manma. It's sparsely populated and offers adventurous trekking opportunities.
Capital: Godawari

Description: Sudurpashchim Province, in the far western region, is known for its diverse ethnic communities, unique cultures, and natural landscapes. The major cities of this province are Dhangadhi, Tikapur, and Dadeldhura. It is less explored by tourists, making it an off-the-beaten-path destination.
Conclusion:
Nepal's seven provinces, each with its own distinct identity, come together to create a mosaic of culture, geography, and adventure. Whether you seek the bustling streets of Kathmandu or the tranquility of Lumbini's sacred grounds, the rugged trails of Gandaki Province's mountains, or the unexplored wonders of Sudurpashchim, Nepal has something to offer every traveler. From east to west, north to south, this small nation packs a big punch in terms of experiences and is a testament to the diversity and resilience of its people. Nepal truly is a land of wonders waiting to be discovered.