Exploring Poon Hill: A Himalayan Gem in Nepal
Trek the captivating Ghorepani Poon Hill in Nepal, a perfect fusion of natural beauty and cultural richness. Marvel at the Annapurna Massif and relish an accessible adventure for both beginners and families.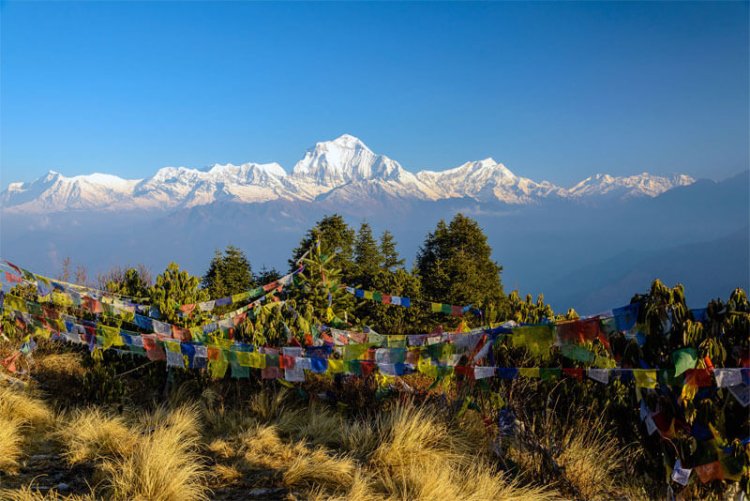 Poon Hill in Nepal
In this article, we will explore the captivating splendour of Poon Hill, a stunning hill station in Nepal's Gandaki Province that sits on the boundary between the districts of Myagdi and Kaski. Poon Hill is a must-visit destination for trekkers seeking the perfect blend of natural beauty and cultural diversity.
Witnessing the Majestic Annapurna Massif
As we know, Poon Hill provides stunning views of the Annapurna Massif, a range that contains some of the world's highest peaks on Earth. The view from this viewpoint encompasses numerous towering peaks, including Hinchuli, Annapurna III, Dhampus Peak, Dhulagiri II, Machapuchare (6,993m), Annapurna South (7,219m), Dhaulagiri (8,127m), and Annapurna (8,091m).
The Poon Hill Trek: A Trek for All
We are very excited to explore this trek, which is well-known for being easily accessible and offering stunning views of the sunrise. The Ghorepani Poon Hill Trek, also known as the Annapurna Sunrise Trek, offers a trekking experience that can be enjoyed by almost everyone. Reaching a maximum elevation of 3,210 metres, it serves as an ideal starting point for trekking in Nepal.
Choosing Between Poon Hill Trek and Annapurna Sunrise Trek
You might be wondering whether to choose the Poon Hill Trek or the Annapurna Sunrise Trek. The good news is, they are essentially the same trek with different names. You can expect to witness one of the most beautiful sunrises during this trek, making it a memorable experience.
Trekking Difficulty: A Perfect Introduction
The Poon Hill Trek is known for its relative ease compared to other treks in Nepal. While it's still a trek through the Himalayas and requires moderate fitness, it's family-friendly and can be completed in as little as four days.
Best Season for Poon Hill Trek
We know that the Poon Hill Trek can be undertaken throughout the year, but the best times are from March to May and October to November. During these months, you can enjoy the most pleasant weather and spectacular views.
Altitude and Altitude Sickness
The height of Poon Hill is 3,193 meters, and the good news is that there's no risk of altitude sickness on this trek. Altitude sickness is a serious concern in higher altitudes of Nepal, but Poon Hill's lower elevation makes it a safer choice for trekkers.
The Cost of Ghorepani Poon Hill Trek
When considering the cost of the Ghorepani Poon Hill Trek, keep in mind that you'll need to travel to Pokhara, which is the gateway to the Annapurna Region. The trek requires permits, so budget for those as well. However, the experience is well worth the investment.
Why Choose the Ghorepani Poon Hill Trek?
From request of many readers, we recommend the Ghorepani Poon Hill Trek for several reasons. It's an ideal trek for those with limited time, offers stunning Himalayan views, and allows you to witness one of the world's most beautiful sunrises.
Getting to Pokhara for the Trek
The Poon Hill Trek starts from Pokhara, a beautiful town about 200 kilometers northwest of Kathmandu. You can either take a flight from Kathmandu to Pokhara or travel by road. The latter option offers a scenic journey, though it takes longer.
A Perfect Trek for Families and First-Time Trekkers
We suggest the Poon Hill Trek as a great choice for novice hikers and families. This 10-day vacation includes a 6-day round-trip hike that offers views of the Himalayas, comfortable accommodation, and delicious cuisine without venturing too far into the atmosphere.
Highlights of the Ghorepani Poon Hill Trek
The trek offers stunning panoramas of the Annapurna region, including Annapurna South, Annapurna I, II, III, and IV, Dhaulagiri, Lamjung Himal, Gangapurna, Machhapuchhare, and Manaslu. You'll traverse through rhododendron forests, terraced slopes, and lush landscapes while enjoying the warm hospitality of local Gurung and Magar villages.
Safe Trekking Experience
We want to assure you that the Ghorepani Poon Hill Trek is relatively safe when it comes to altitude sickness. Proper preparation and understanding of Acute Mountain Sickness (AMS) are crucial. Trek with respect for the mountains, listen to your body, and stay well-informed for a safe and enjoyable trekking experience.
Poon Hill: A Trek Worth It
Is Poon Hill worth it? Absolutely! It's a fantastic trek for beginners and those short on time. Poon Hill itself offers amazing views of the Annapurna region and surrounding mountains, making it a trek that's truly worth the visit.
Planning and Preparation
For a successful Poon Hill Trek, make sure you plan and prepare adequately. Wear appropriate clothing, stay hydrated, and be mindful of altitude. Also, be sure to obtain the required permits for this trek.
As we conclude our journey through the wonders of Poon Hill, we hope you are now very excited to embark on this remarkable trek in the heart of Nepal. Whether you're a seasoned trekker or a first-timer, Poon Hill promises an unforgettable experience that showcases the grandeur of the Himalayas. Don't miss the opportunity to witness the sunrise over the Annapurna Range, a sight that will stay with you forever. Happy trekking!