Khumai Danda Trek: Discover the Hidden Gem of Nepal
Embark on the Khumai Danda Trek in Nepal. A 3-4 day escape to breathtaking vistas and serene trails at 3245 meters, offering a perfect short adventure for nature lovers.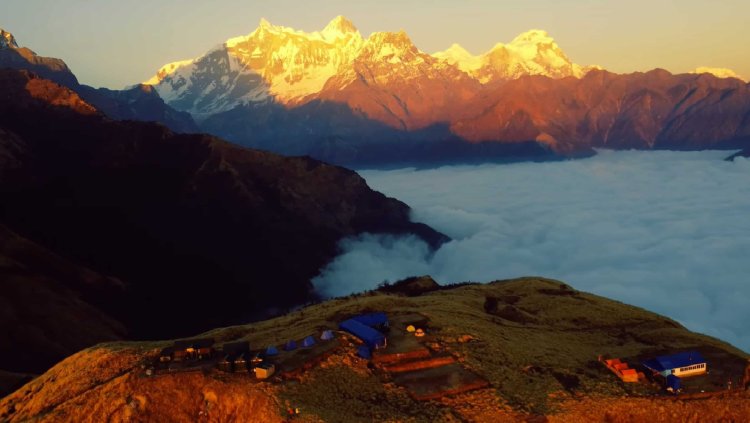 Khumai Danda Trek
In this article, we will discuss the hidden gem of Nepal, the Khumai Danda trek, which offers an unparalleled trekking experience for nature enthusiasts and adventure seekers.
Khumai Danda is nestled on the north side of Pokhara, at an elevation of 3245 meters. Located at the base of the south face of Macchapuchre, it is also part of the Macchapuchre Model Trek. This trek can be completed in 3-4 days, making it an ideal choice for those with limited time.
Panoramic Views and Relaxing Trails
Khumai Danda offers breathtaking views of the Himalayas and stunning sunrise vistas from the vantage point, of Korchan (3700m). The trek takes you through a peaceful trail, surrounded by unspoiled scenery, rich, forests and visits to charming ethnic villages like Saripakha, Hile Kharka, and Mirsha Village. According to our experience, this destination is a paradise for anyone seeking solitude and a memorable time in nature.
Perfect for Short Treks
We know that not everyone can spare many days for trekking, especially due to personal and professional commitments. Khumai Danda is the perfect choice for a short trek, ideal for a weekend adventure. You will traverse landscapes, from Rhododendron-covered forests to snow-covered trails, depending on the season. This trek is beginner-friendly, offering a moderate level of difficulty and a short duration while providing a rich experience.
Key Information About Khumai Danda
District: Kaski
Elevation: 3245 meters from sea level
Duration: 3 days from and to Kathmandu
Cost: Rs. 7,000 to Rs. 15,000
Best Seasons to visit khumai dada : February, March, April, May, September, October, November
The Khumai Danda Trek
The Khumai Danda trek, also known as the Machhapuchhre Model Trek, is a hidden treasure in Nepal's Annapurna region. This three to four-day trek, at an elevation of 3245 meters, offers a paradise for both nature enthusiasts and thrill-seekers.
Why Choose Khumai Danda?
Khumai Danda trek offers a unique blend of natural beauty and tranquillity. While Nepal has numerous trekking destinations, Khumai Danda remains less crowded and unspoiled, making it an excellent choice for those seeking a peaceful escape.
Highlights of the Trip
Enjoy panoramic views of Mt. Macchapuchre (6993m), Annapurna (8091m), and Mardi (5587m).
Trek through natural, unspoiled trails.
Witness the mesmerizing sunrise and sunset from Korchan (3700m).
Experience the warm hospitality of the locals and explore their unique culture.
Khumai Danda 3 Days Itinerary
Day 1: Drive from Pokhara to Hemja and trek to Hile Kharka (2160m) via Ghachowk
Day 2: Trek from Hile Kharka to Khumai Danda (3245m)
Day 3: Hike to Korchan Danda (3700m) and hike down to Ghachowk and drive to back to Pokhara
Permits Required
To embark on the Khumai Danda trek, you'll need an Annapurna Conservation Area entry permit and a TIMS card, as is required for most treks in Nepal.
Best Season
The Khumai Danda trek can be enjoyed throughout the year, but the best seasons are spring and autumn. These months offer pleasant weather and optimal trekking conditions. Winter provides stunning snow-capped views, while summer, though less ideal due to rain, showcases blossoming wildflowers.
A Hidden Paradise
Khumai Danda Trek is a trekking trail with tremendous potential. Its untouched beauty, stunning mountain views, rich forests, and unique cultural experiences make it an attractive destination for trekkers of all ages. It's the perfect option for those seeking a peaceful trek away from the crowds city areas.
Explore Khumai Danda
Khumai Danda, standing at 3,700 meters, offers panoramic views of the Annapurna and Dhaulagiri mountain ranges, with the highlight being the majestic Mt. Machhapuchhare. It's an ideal choice for trekkers who want to experience the beauty of the Annapurna region without committing to a more challenging and lengthy trek.
When to Trek
Nepal has four trekking seasons: spring, autumn, summer, and winter. The best times for the Khumai Danda trek are spring and autumn, with pleasant weather and suitable temperatures. Winter offers beautiful snowy landscapes, and although summer brings rain, the blossoming wildflowers are a sight to behold.
The Route
The best trekking route to Khumai Danda is through Ghachowk, an unexplored path that enhances the trek's beauty and amazing experience. The route includes Kathmandu-Pokhara-Ghachowk-Saripakha-Tubu Camping-Hile Kharka-Goth at the base camp-Khumai Danda View Point-Ghachowk-Pokhara.
Khumai Danda Trek is a remarkable journey that offers a unique blend of natural beauty, cultural experiences, and tranquillity. Whether you're a seasoned trekker or a beginner, this trek has something to offer everyone, making it a top choice for those looking to explore the hidden gems of Nepal. With the best choice of travelers for a short day trek. So we recommend everyone to explore khumai dada once in a lifetime.