Major Attractions and Activities at Bhote Koshi
Major Attractions and Activities at Bhote Koshi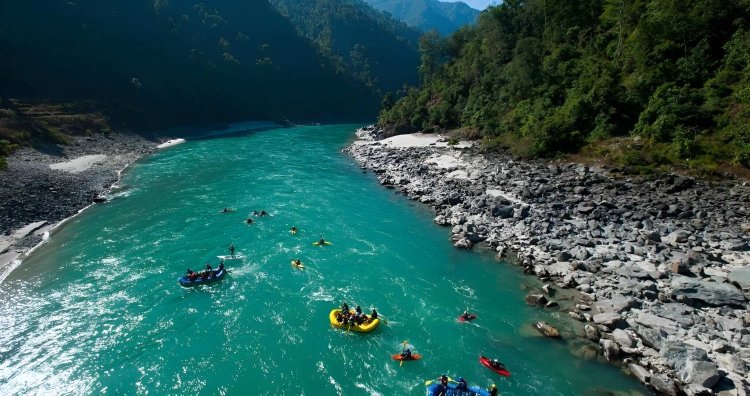 Bhotekoshi is one hidden paradise where traveling seekers can prepare themselves to negotiate various degrees of canoeing. Bhotekoshi is about a three-hour drive from Thamel in Kathmandu. Visitors are offered a one night stay at the Tibetan Link Resort and this is the best place to see several tributaries mixing with the Bhotekoshi and the river flowing down. When it opened in 1999, Bhotekoshi was the second highest suspension bridge in the world after the Niouc Bridge in Switzerland. In 2006, it moved up to 3rd place when Japan's Kokonoe "Yume" Otsurihashi Bridge opened. Conceived from the beginning as a bungee jumping bridge, the owners of Bhotekoshi explored several locations in the region around Kathmandu. In 2004, the canyon swing was introduced. The bridge site is called The Last Resort and also includes hiking, rafting and mountain biking, as well as overnight tenting. The bridge is located approximately 35 miles northeast of Kathmandu, Nepal and requires a five-hour round trip.
White-water rafting
White water rafting is a great way to experience the ultimate thrill ride on the rural side of Nepal and enjoy nature and wildlife. Flowing through the Royal Chitwan National Park, the Trisuli River is one of the most accessible rivers suitable for all types of whitewater rafting at various levels. The Sunkoshi River is in the top ten rafting destinations in the world and offers the most challenging ride within a radius of 235 kilometers. Himalayan River Exploration works for rafting and operates rafting trips on major rivers in Nepal. The rafting trips last from one to nine days, a package created for travelers according to their interest and include gentle rafting with mild rapids to extreme whitewater. People are connected in a group or can participate in trekking or jungle safari.
Bungee Jumping
Bungee jumping has been the biggest thrill as an extreme sport in Nepal. Ever since the sport was introduced in the country, it has been attracting international tourists in huge numbers. For those who want to experience a real thrill in life, they would like to try bungee jumping in Nepal. Bungee jumping in Nepal is located in a district called Bhotekoshi, which is near the Kathmandu valley about 80 kilometers. Bungee bridge is a steel suspension bridge over Bhotekoshi and the height of the bridge is 525 feet. It is Nepal's only privately owned bridge and was specially made for bungee jumping.
Canoeing
Canoeing in the unexplored wild water of Nepal is a different feeling and a great achievement. Wild rivers in the Himalayas of Nepal is an adventure sport that involves descending streams or creeks in a canyon in a variety of ways, including hiking, climbing, wading, boulder hopping, rock climbing, abseiling and abseiling using safe techniques. As many true adventure seekers have discovered, the most interesting place to swim begins at the very edge of the 45m waterfall. At the end of the excursion, the last jump plunges the participants into the pool.
Rock Climbing
Mountain climbing is a demanding sport for outdoor enthusiasts. Most of the climbing areas are located north of Kathmandu in Nagarjun Forest and Shivapuri National Park. However, Bhotekoshi also offers mountain climbing destinations on its territory. Many national and international tourists come to visit and want to experience rock climbing at this place. Along with mountain climbing, travelers have the opportunity to do various other activities such as hiking, bird watching and nature trips. A trip to these places can therefore be combined with hiking, bird watching, nature trips and other activities.