Mayor Balen Shah: Revolutionizing Kathmandu's Development
Reshaping Kathmandu's Future: Mayor Balen Shah's Transformative Leadership and Remarkable Achievements driving progress and making a lasting impact on the city's development.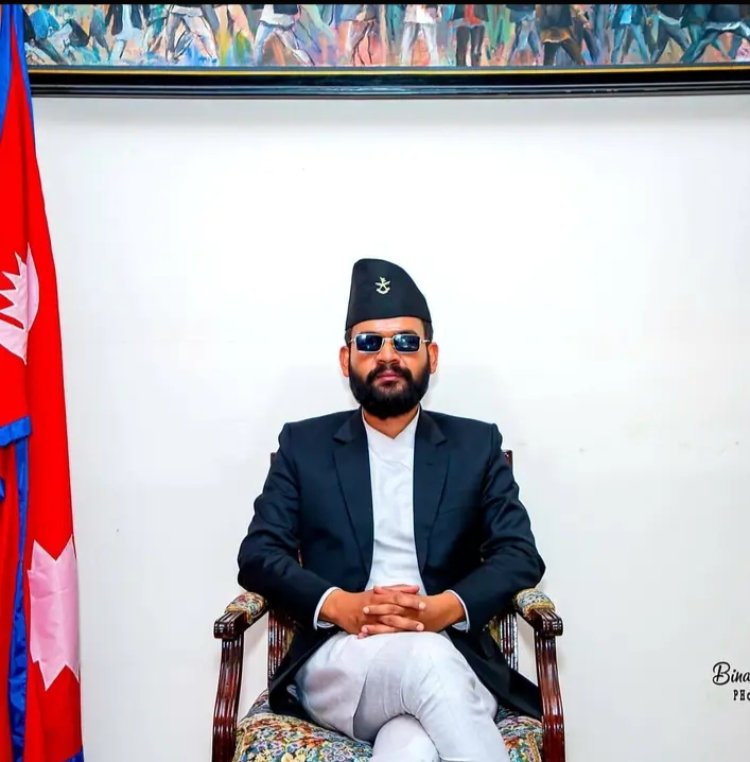 Mayor Balen Shah
Balen is a renowned figure whose name resonates with people of all ages, from young children to the elderly. He is a widely recognized personality at the national level and on the international stage. Balen holds the distinct honor of being the first mayor in history to garner international attention, as his achievements were prominently featured in the prestigious New York Times.
In the subsequent 2017 municipal elections, Balen Shah initially expressed his interest in running for the position of Mayor of Kathmandu. However, after careful consideration, he ultimately decided against pursuing the candidacy. Recognizing the importance of adequate preparation and planning, he made the responsible choice not to proceed, as he felt he was not fully equipped to execute his envisioned plans effectively.
Following a patient five-year wait, Balen Shah officially announced his candidacy for the position of Mayor of Kathmandu Metropolitan in 2022. On May 26, 2022, the determined Balen Shah secured an impressive 38.6% of the vote, emerging victorious and earning the esteemed title of Mayor of Kathmandu Metropolitan. In a resounding triumph, Balen Shah surpassed his opponents by a substantial margin of over 23,000 votes. Notably, he defeated Keshav Sthapit of the CPN (UML) and former mayor Srijana Shrestha of the Nepali Congress, solidifying his position as the choice of the people and highlighting the trust placed in his leadership abilities. Presently, Balen Shah is effectively demonstrating to the general public that their votes were cast in favor of the right person. Through his commendable actions, he is instilling a sense of pride in all Nepalese.
Works Done by Balen Shah, Mayor of Kathmandu Metropolis in One Year:
Waste management within the municipality
Toilets of hotels, restaurants, financial institutions, etc. can also be used in public
The decision not to pick up the garbage of Singha Darbar was also a positive discussion for Balen
Pavement management
Metropolitan meeting live where the general public would be able to see what happened in the meeting of metropolitan
Organized parking, arrangement of underground parking
A positive effort to remove the slums that have been occupying land on the banks of the river in the name of Sukum residents for years,
Searching for the Tukucha River and demolishing the structures built on the river since decades ago,
Removal of unorganized wires and huge hoarding boards that are scattered here and there to make Kathmandu metropolis ugly.
Free ambulance service throughout Kathmandu,
Sealing of petrol pumps operating against norms,
Penalty for littering in a public place
Trying to do certain works including construction of parks and mandatory contracts when renting and giving, within one year.
Legally, the law makes it easier for the residents of the city to deal with cases.
Grievance Management and Inquiry Centre
Digital Government to Local Government
have started the KMC app. Providing more than 30 recommendations, online revenue, digital citizen charter, public complaints, smart tax, and other services through the application.
Given the peace and security of the city, crime control, accidents, etc., 6 crore rupees have been provided to Nepal Police for a CC TV connection.
Free treatment for poor and targeted groups
For quite some time, Balen Shah swiftly gathered the taxes that were previously unpaid or uncollected by the government within a mere 24-hour period.
A generous contribution of 1 crore has been made by Balen Shah towards the development and promotion of E-sport gaming.
Balen Shah is currently devising plans to establish a Yama Buddha park in honor of the late Yama Buddha, utilizing his salary for its creation.
The Kathmandu call center has been established to facilitate communication with the public, providing a platform for individuals to voice their concerns, ask questions about Kathmandu Metropolitan, and seek resolution to various issues they may be facing.
Under Mayor Balen Shah's leadership, a city beautification project is being implemented to enhance the cleanliness and aesthetics of the city. As part of this initiative, various plantation projects have been undertaken along the main roads, adding greenery and natural beauty to the urban landscape.
The education sector has witnessed noteworthy reforms and transformations under Mayor Balen Shah's administration. One notable initiative is the implementation of a book-free day, where students are engaged in practical skill-building activities. Additionally, a policy has been introduced to discourage schools from including international references in their names, as it does not adequately represent their national identity. These measures reflect the commitment to enhancing the educational experience and fostering a sense of local pride.
A dedicated budget has been allocated for the preservation of religious sites in Kathmandu, emphasizing the importance of safeguarding these significant cultural and spiritual landmarks.
Under his guidance, Kathmandu Metropolitan introduced new bus routes, improved bus stops, and implemented a smart ticketing system, ensuring a more convenient and reliable travel experience for residents and commuters.
Within one year, Balen Shah has undertaken several noteworthy projects and initiatives. While there may be additional endeavors that have been accomplished, based on my research, the following are some of the remarkable achievements attributed to his leadership. He has been performing admirably, instilling hope in the hearts of all Nepalese.
Mayor Balen Shah's remarkable achievements in just one year as the leader of Kathmandu Metropolitan have set a new benchmark for governance and urban development. His unwavering dedication, visionary leadership, and focus on infrastructure, public services, and sustainable development have transformed the cityscape of Kathmandu.
Unlike many political leaders who tend to prioritize speeches over action, Balen Shah distinguishes himself by focusing on tangible work. He devotes limited time to speaking, with his speeches typically lasting no more than 5 to 6 minutes. During these concise addresses, he chooses his words carefully, delivering impactful messages that resonate with the audience. His approach emphasizes the significance of actions over mere words, making his leadership style effective and results-oriented.
Mayor Balen Shah's transformative leadership has laid a strong foundation for the future growth and prosperity of Kathmandu Metropolitan. By prioritizing infrastructure development, enhancing public services, and promoting sustainable practices, he has created an environment conducive to economic growth, social well-being, and environmental sustainability.
His bold vision and proactive approach have inspired residents and stakeholders to actively participate in the city's development. Through effective collaboration with local communities, businesses, and governmental organizations, Mayor Balen Shah has fostered a sense of ownership and pride among the citizens of Kathmandu, driving them toward a shared vision of progress and prosperity.
As the city looks towards the future, it is evident that the strong foundation laid by Mayor Balen Shah will continue to shape Kathmandu's growth and prosperity for years to come. By following his example of boldness, inclusivity, and sustainability, Kathmandu Metropolitan has the potential to become a shining example of a modern and thriving city in the global arena.
About the Recent Life of Mayor Balen:
In recent days, there has been significant opposition from several political leaders regarding Balen's actions. Balen refused to allow the screening of the Hindi movie Adhipurush in Nepal, as the movie portrays Goddess Sita, a character from the Ramayan, as the daughter of India, which is an incorrect statement. In reality, Goddess Sita is regarded as the daughter of Nepal. As a patriot, Balen deemed this portrayal inaccurate and granted the production team three days to rectify their mistake. However, the team did not acknowledge their error, resulting in Balen's decision to ban all Hindi movies in Nepal. Nevertheless, this course of action was not accepted by many prominent figures, and the court instructed Balen to retract his statement and permit the screening of Hindi movies in Nepal, except for Adhipurush. Despite the court order, Balen remained undeterred by anyone and refused to comply, stating his lack of fear or intimidation.
Mayor Balen posted, "When it comes to the sovereignty and independence of the country, I am not going to obey any law or court. After the film writer says that Nepal was under the rule of India, they know their intention. The Nepal government will call this a stunt and the court will allow the film to run, meaning that Nepal was under the rule of India, and the court and the government are understood to be slaves of India. I am ready to suffer any punishment for this, but the film will not run and will not be allowed to run."
Mayor Balen has garnered support not just from the residents of Kathmandu, but from the entire Nepali population. He is recognized as someone who genuinely loves Nepal, and the Nepali people have made it known to the court that any harm inflicted upon Balen would have severe repercussions. This signifies that Nepal is experiencing progress under the guidance of educated and youthful leaders like Balen and a generation that acknowledges his positive contributions to the nation. There is a collective understanding that we should extend our support to Balen in any way possible, as he works for the betterment of our country.