The Evolution of Tourism in Nepal - A Look at the History and Development of the Industry and its Attractions and Destinations
Explore the evolution of tourism in Nepal and discover the history, development and current state of the industry, including its most popular attractions and destinations. Get a deeper understanding of how Nepal became a tourist hotspot.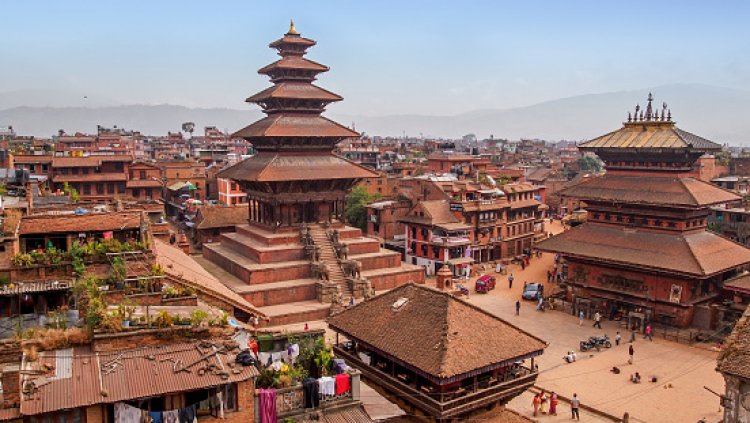 About Nepal
- Nepal is a land of eternal beauty and splendor, surrounded by the majestic peaks of the Himalayan mountains.
- It is a land of colorful cultures, ancient history and people, a fascinating scenery, and some of the world's most fascinating landscapes.
- Best known for the world's highest mountain, Mount Everest, which rises to an altitude of 8848.86 meters.
- A visit to Nepal informs you about the many places you can visit in Nepal, famous for the birthplace of Gautam Buddha who laid the inspiration and foundation of Buddhism in the country.
- Nepal with rich traditions of arts, culture, and heritage.
- Kathmandu, Nepal's capital city, is a treasure house of historic artwork and culture.
EVOLUTION OF THE WORD "TOURISM:
In Sanskrit books, there are 3 travel words, derived from the root "atan", which means to go / leave home and go elsewhere.
The 3 words are:
PARYATAN
- Going out for pleasure and knowledge.
DESATAN
- Going overseas prominently for financial gain.
TIRTHATAN
- Going out to places of religious merits.

ANCIENT NEPAL TOURISM.
- Ancient history is largely based on cultural significance.
- Manjushree (Tibet) is considered to be the first to arrive in Nepal who cut off Chobar hill and released all the water except for the life of Kathmandu village.
- Ashoka (India) visited Lumbini, erected a pillar of Ashoka (Proof that Buddha was born in Nepal)
- The famous Chinese explorer, Huien Tsang, visited Lumbini in 643 AD.
- Regular visits to Buddhism followere such as Santarakshit (742AD), Padma Sambhav (474AD), Kamalsheel (760AD), Atisha Dipankar (1000AD), Milarepa (1010AD)
Lichchhavi Empire (400-750AD)
The marital relationship between Amshuverma's daughter, Brikuti and Tibetan king Srong Sten Gampo.
Established bilateral relations established between Tibet and Nepal.
Araniko visited Tibet and flourished Nepali art there.
Malla Dynasty (750-1480AD)
Under the rule of the Malala king, westerners began coming to Nepal for the purpose of spreading and promoting Christianity.
Establish good trade relations between Tibet and India.
- During the time of Lichhavi and Malla, great strides in arts and culture were made. The buildings, paintings and sculptures were greatly improved.
- Many temples, monuments, statues and inscriptions, existing festivals which are a tourist attraction.
- Chinese, Tibetans, and Indians used to visit Nepal mainly for religious and commercial reasons.
TOURISM AFTER NEPAL ASSOCIATION (1767 - 1950 AD)
- 1767 AD: Prithivi Narayan Shah unified scattered principalities into bigger Nepal.
- 1792 AD: Captain Kirk Patric, a military officer, came to collect facts about Nepal. He wrote the book "An Account of the Kingdom of Nepal" which helped to introduce Nepal to the outside country.
- 1816 AD: Sugauli agreement was signed between Nepal and the British East India Company. The beginning of the regular visit of British citizens to Kathmandu.
- 1850-51 AD: Rana prime minister Junga Bdr. Rana visited Britain which brought Kingdom of Nepal into limelight in Europe.
- 1911/21 King George V and the Prince of Wales visit Nepal to hunt the Tiber.
- Regular visits by the Prime Minister of Rana to Britain and British officials in Nepal.
- The first record published by foreign tourists to Nepal is found in Percival London's 'Nepal' book, in which 153 Europeans, mostly Englishmen, are reported to have visited Kathmandu in the period between 1881 and 1925 AD.
TOURISM AFTER 1950
- 104 years the Rana Regime autocracy was ended in 1950.
- Slow development in Nepal began to take place.
- A road network was established connecting parts of Nepal with the Indian Border.
- Only finger count foreigners were given permission to enter Nepal. Mainly for the purpose of trading, climbing and pilgrimage purpose before 1950.
- In 1950 Maurice Herzog became the first person to summit Annapurna I.
- 1952 AD: Swiss geographer Tony Hagen was hired by the Nepali Government to map Nepal. She traveled 14000 km in Nepal's Himalayas and retired in 1972 AD.
- A group of wealthy tourists, sponsored students began traveling from England to Nepal through Eastern Europe, Turkey, Kasmir, Manali and Nepal to do research and climbing purpose.
- 1953 AD: Sir Edmund Hillary and Tenzing Norgay Sherpa climbed Mt. Everest and they were the first to do so.
- The 1950s is considered one of the most important periods in the development of Tourism in Nepal. 14 world-famous over 8000m 7 out of 8 peaks in Nepal were conquered.
- Annapurna I, Everest, Chooyu, Makalu, Kanchenjunga, Manaslu, Lhotse, Dhaulagiri.
- The role of tourism in the mountains is very important in the tourism sector as a whole. In fact, Nepal's tourism industry began with a tour of the mountains.
- 1955 AD: The first tourist visa was issued to Russian citizen Boris Lisanevich, Boris Lisanevich, a legendary hotelier and a pioneer in Nepalese tourism.
- He was invited by King Mahendra to allow Thomas Cook's company to send a visitor to Nepal.
- Boris founded the first hotel "Royal Hotel".
- 1955 AD: The first private airline company "Himalayan Airways" came into operation.
- 1956 AD: The National Tourism Council established a five-year tourism development plan under the Ministry of Industry and Trade.
- 1958 AD: Royal Nepal Airlines Cooperation (RNAC) now NAC came into operation.
- Nepal began direct contact with Indian Cities and this land locked country became easily accessible to other countries.
- Nepal became a member of the International Union Of Official Travel Organization (IUOTO) and now the World Tourism Organization (WTO)
- 1964 AD: Jimmy Robert founded the first travel agency "Mountain Travel Nepal" to organize trekking and climbing.
- Founded "Tiger Tops" in Chitwan National Park began to promote and conserve wildlife.
- Directed attention to the Government of Nepalese on the power of Tourism in Nepal. Became a role model in teaching and applying tourism management in Nepal.
- Jimmy Robert is also regarded as 'The Father of Trekking' in Nepal.
- His vision, then, was to make mountaineering experience easier and more understandable than it was at first.
1960 & 1970'S HIPPIE CULTURES
- Hippies are a group of young people who followed liberal anti-war philosophy.
- Hippie's main site such as buying and selling Hassish was legal until 1979.
- Jimmy Robert has played a key role in promoting and promoting Nepal as a tourist attraction.
- A good Nepali ambassador as he continues to tell about Nepal's cultural and natural beauty when they return home.
- By 1965, all 8000+ mountains were conquered. It has established Nepal as a major hiking and mountain climbing destination.
- The 1972 NATHM was established by the Government of Nepal through the UNDP / ILO to produce the skilled workers needed by the hospitality and tourism industry.
- More than 20,000 professionals are trained from NATHM in various fields such as hotel management, tour guide and hiking etc.
- 1973: Chitwan National Park (CNP) was established to protect and conserve wildlife.
- 1979: Taan was established to regulate, develop, and promote the Nepali pedestrian sector.
- 1998: The Nepal Tourism Board (NTB) was established to develop the tourism industry.
- 1992: Necon Air (Nepal's first private airline) and Asian Airlines Helicopter (Nepal's first helicopter) came into existence.
- 1998: The Nepal Tourism Board (NTB) was established to develop the tourism industry.
Nepal celebrates "Visit Nepal 98" to strengthen Nepalese tourism.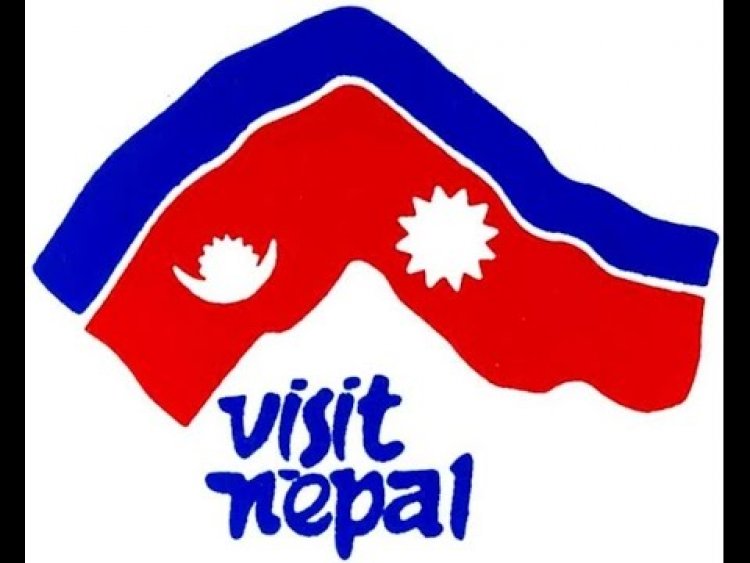 DURING 1950-1998, NEPAL BECAME A HOT PLACE FOR LARGE HOLIDAYS, JOURNALISTS AND CULTIVAL VISITORS.
TOURISM IN NEPAL (1999 TO 2011)
THE DARK PERIOD (1999-2005)
- 1999 Hijacking of Indian Airlines ships from TIA.
- 2001: "Royal Massacre" A Black Day in Nepalise History
- 2005: King Gyanendra Coup and suspended constitution.
- Moisture rebels were active in different parts of Nepal. Travelers could not move about freely and felt insecure.
RESULTS:
- MESSAGE TO THE FOREIGN WORLD, NEPAL IS NOT SAFE FROM BEING.
- 50% of travel agencies closed
- Tourism focuses on the urban area only.
- Reduce the length of stay.
- 2006 A peace agreement was signed between the Government and Moist Government.
- The message to foreign countries in Nepal, is now safe to travel
- Tourism slowly starts picking up.
- 2011: Nepal Tourism Year celebrated
- The global economic crisis has brought a collapse to American and European tourists and has been turned into a hot tourist destination for Chinese travelers.
NEPAL AFTER THE 2015 EARTHQUAKE
- On April 25, 2015, a magnitude 7.8 earthquake shook Nepal.
- Nearly 9,000 people died and more than 22,000 were injured.
- The Mt. Everest climbing season was canceled.
- The historic site of the city, Bimsen Tower (Dharahara) with 61 meters high was collapsed.
- Also on May 12, a magnitude 7.3 earthquake aftershock occurs, resulting in the destruction of schools, health facilities, water and electricity, roads and bridges, and homes.
- All businesses including the tourism industry and markets was collapsed.
- The 10 billion rupees tourism industry was affected.
- The most important Hindu temple in the land of Pashupatinath was also partially damaged.
- The Everest base camp was destroyed, and 18 climbers were killed.
- Many trekking sites got affected.
- According to officials from the Nepalese archeology department, a total of 57 monuments in Kathmandu village were destroyed as a result of the massive earthquake.
Visit Nepal 2020 tourism cancellation and Covid 19 impact on Nepal Tourism
- Tourism revenue in 2018 accounted for 7.9% of Gross Domestic Product (GDP) and supported more than 1.05 million jobs.
- Nepal hosted 1.19 million foreign tourists by 2019.
- The 'Visit to Nepal 2020' campaign, which was officially launched on January 1, 2020.
- It aims to attract 2 million tourists, generate $2 billion and create thousands of new jobs.
- On January 23, the first case of COVID-19 was found in Nepal.
- It has begun to grow worldwide and amid growing public concern.
- Government Suspended the 'Visit Nepal 2020' initiative on March 3, 2020.
- After the World Health Organization (WHO) declared COVID-19 an epidemic on March 13, the government suspended permissions for mountaineering expeditions and suspended all visas.
- Following the confirmation of the second international prosecution on March 23, the government shut down the country and suspended all national and international flights.
- This was followed by a major cancellation of hotel and guest bookings, which led to an increase in unemployment, loss of income and thousands of lives at risk.
- 2% reduction in international and domestic tourists by January 2020 compared to 2019
- More than 10,000 tourists who entered Nepal before the closure were also left homeless, though many of them eventually returned home.
Places to Visit in Nepal
Kathmandu City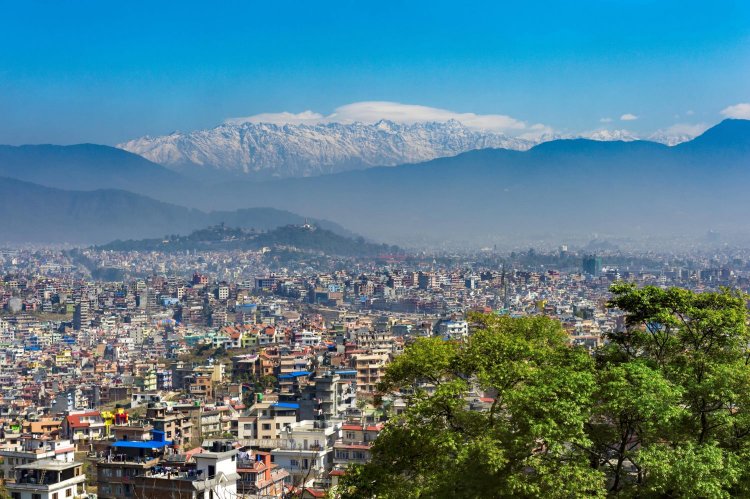 - Nepal's capital, Kathmandu Valley, is a unique place in Nepal, the center of Nepal's political, commercial and cultural activities.
- The capital is designed for many travelers, and even the name Kathmandu conveys images of spirituality, mystery, and entertainment.
Boudhanath Stupa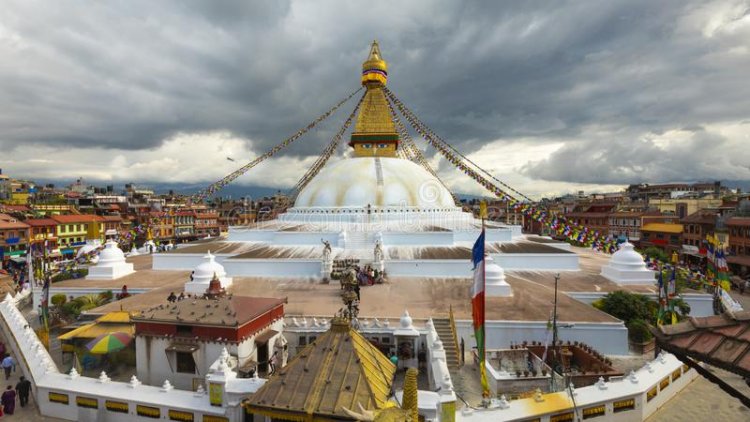 - Bodnath is Nepal's largest mosque and is the religious center of Nepal's largest Tibetan community.
- It is a very important monument to Tibetan Buddhists outside of Tibet.
- Listed as a World Heritage Site.
Pashupatinath Temple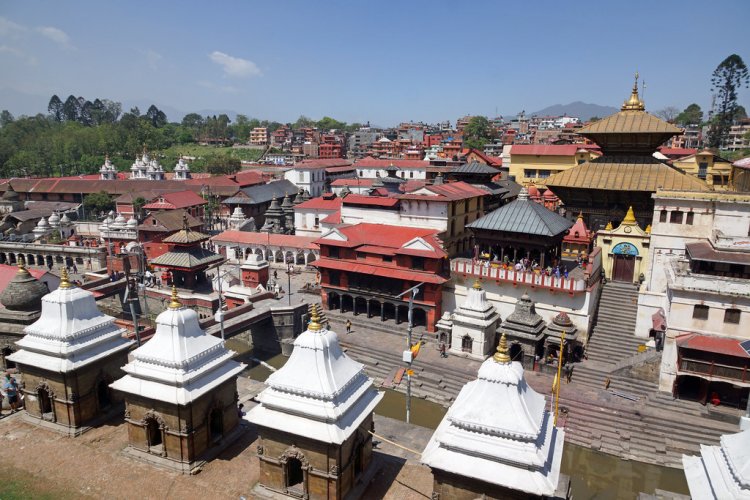 - The Pashupatinath Temple, with its magnificent architecture, stands as a symbol of faith, religion, tradition and tradition.
- The existence of the Temple dates back to 400 A.D.
- It is considered the most holy temple of the Hindu Lord Shiva in the world
- Listed as a World Heritage Site.
Swayambhunath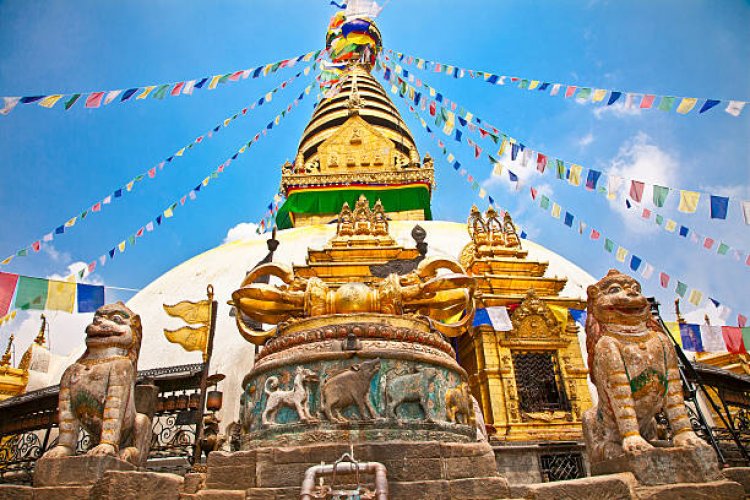 - It is an ancient and mysterious place in all the holy places of Kathmandu Valley.
- Here a round white mound with an umbrella at the top, representing the steps leading to nirvana. The Stupa is hung with prayer flags of many colors.
- Historical records found in stone tablets give evidence that the stupa was already a major attraction for Buddhists by the 5th century A.D. i.e. before the advent of Buddhism in the village.
Pokhara Valley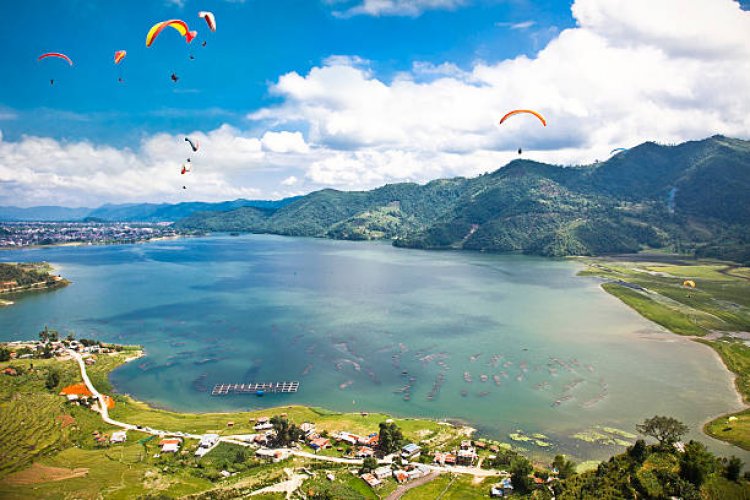 - Pokhara Valley, a land of breathtaking natural beauty crowned by the majestic Himalayas, offers a breathtaking view of the calm, green hills.
- Pokhara is also known as a major tourist destination.
- Three of the ten highest mountains in the world - Dhaulagiri, Annapurna and Mananaslu are within 30 miles of the city.
- The city also serves as a base for pedestrian crossings in the Annapurna region of the Himalayas.
Lumbini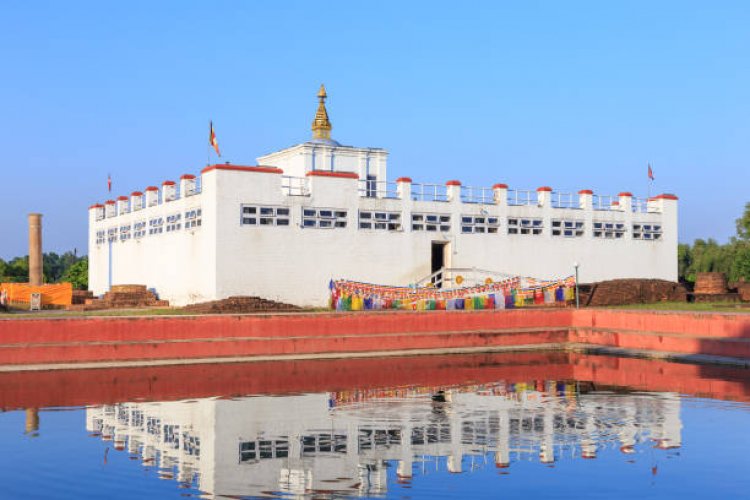 - Lumbini, the birthplace of Lord Buddha, is the center of millions of Buddhist religions worldwide.
- A solid stone pillar built by the great Indian emperor Ashoka is also here. The account of the Buddha's birth is recorded in it.
- One of the most important historical sites in the world is the UNESCO World Heritage Site.
Mount Everest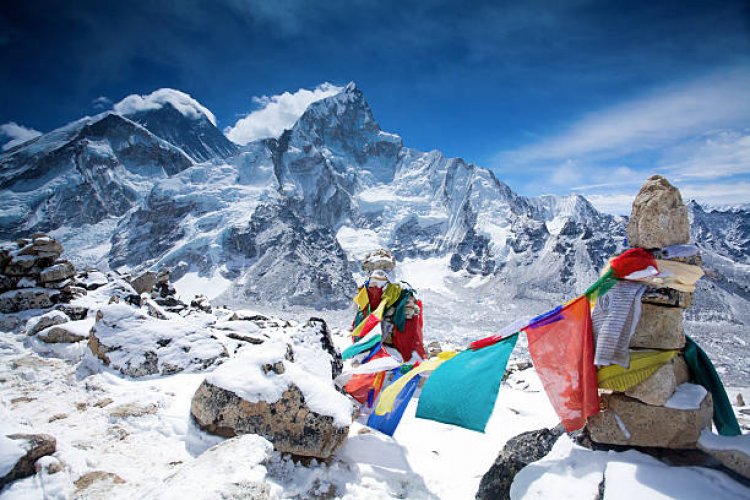 - The tallest mountain in the world, measuring 8848.86 meters (29031.69 ft).
- Located in the Solukhumbu district.
- Also known as "Sagarmatha".
- World Heritage Site.