Extreme Sports in Nepal
Adventure Playground in Nepal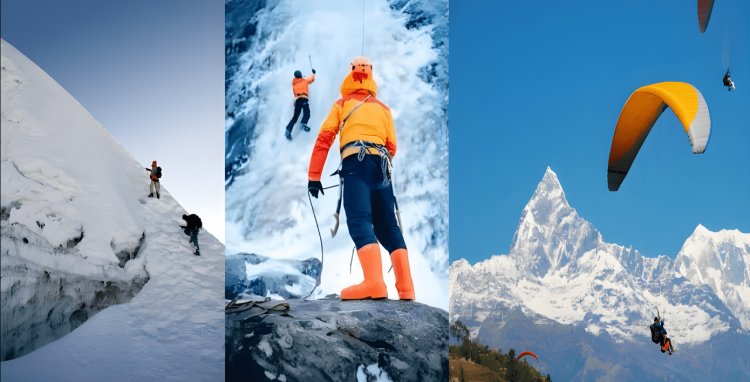 Nepal is the best place for extreme sports or in other words known as adventure playground. It is very popular for its scenic beauty, exceptional terrain, exotic wildlife, mesmerizing Himalayan peaks and sparkling white rivers that make Nepal an adventure lover's paradise. Globally, Nepal is well recognized as an important trekking destination. And in recent years, it has managed to gain a lot of attention for other new adventure sports that are popular in other countries. Compared to trekking and mountaineering, it is much more exciting and adventurous. Some of the most exclusive and widespread extreme sports in Nepal are white water rafting, bungee jumping, mountain biking, paragliding, para hawking, canyoning, zip flyer, heli-skiing and sky diving.
History of Extreme Sports
The origin and popularity of adventure sports or extreme sports is from the last five decades when tourists and local people tried to climb the highest peak in the world known as Mt.Everest .The discovery of the world's highest peak was one of the crowning achievements of the work of surveyors, explorers and geographers. Edmund Hillary of New Zealand and Tenzing Norgay Sherpa of Nepal are the first confirmed climbers to reach the summit of Mount Everest on May 9, 1953. Everest is 29,035 feet above sea level. The two climbers spent only 15 minutes on the summit a few snaps of photos, did a celebratory hug and ate mint cake. As a symbol and memory of their coming to the top; Tenzing Norgay Sherpa left some sweets as a Buddhist offering and Edmund Hillary left a cross on top of the mountain. Until the 19th century, no one was aware that Mount Everest was the roof of the world.
Since its inception, extreme sports have thus played a vital role in the economic development of inaccessible areas and have major impacts on local people and their communities. In addition, it also allowed access to many new environments due to the geographical structure of the country for the newly introduced extreme sports. Unfortunately, however, there is no definitive data or evidence to fully resolve this, even after an active and strong commitment and determination to adapt extreme sports like any other country in the world. The priority has never been to evaluate the impact of extreme sports in Nepal, but it has always been an effort to bring possible positive impacts that can gradually affect the growth of the national economy, tourism and, in order to encourage nature conservation, development.
Current Trend in Extreme Sports
Nowadays, recreational activities and adventure sports are promoted and exploited by attracting a huge number of tourists from different parts of the world, which has provided a platform for further development and expansion in the tourism industry. The National Tourism Board markets adventure sports internationally or abroad through participation in seminars, conferences and exhibitions that are organized in different countries. For greater visibility and expansion of adventure sports, the target customers are mainly foreign tourists, because extreme sports are popular especially among foreign tourists. Nepal is mainly considered as one of the most popular locations for trekking, as more than 40% of tourists usually travel to Nepal for trekking, 20% of tourists participate in white river rafting, where 5-10% are domestic tourists and 60-70% of tourists tends to participate in various extreme sports activities as stated.
Domestic tourists also began to actively participate in various adventure sports, especially in the off-season, holidays and free time. The peak season for adventure sports activities is especially in the summer season. But river rafting can be experienced in the months of February, March, May, June, September, October and November. Nowadays, a new trend has emerged in addition to individual tourists where corporate business organizations have been observed to send their workers and employees to adventure sports like hiking, zip-lining, canyoning and rafting. It has been in motion due to the popularity of this particular sport as a good and effective team building exercise that tends to involve equal participation of all members in a group to complete and accomplish tasks and subsequently instill team value. In today's world, people are very conscious and concerned about their health and health related issues, which has led a considerable number of young people and working people to start challenging themselves with several adventure sports activities.
Some Popular Extreme Sports in Nepal
Nepal one of the best landing point for adventurous sports in the world and a heaven for the adrenaline junkies and without a doubt a beautiful Himalayan country. It definitely does offer a number of adventure sports where you are able to climb the peaks of the Himalayas, trek through the countryside complemented with the scenic beauty along with the mountains. Rafting and canyoning down the uncertainty of the waves of the river and experiencing wild life with jungle safari in a dense forest. Parachuting and flying without wings with the hawks and eagles, bungee jumping in the deep George of 160 meters height and natural rock climbing or mountain climbing. There is a variety of adventure sports to choose from to get the adrenaline pumping but here is the list of some most popular adventure sports that are currently in operation in Nepal.
i) Mountaineering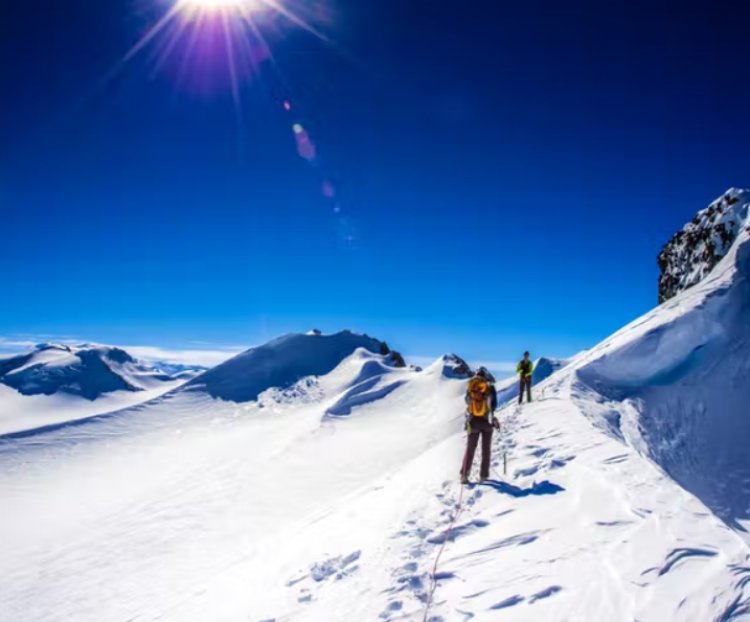 The 14 highest peaks in the world are known as the "Eight-Thousander", the name has been given due to their height which is more than 8000 meters above sea level. And out of these fourteen peaks, Nepal is the home for 8 of them and they are listed as Everest, Kangchenjunga, Lhotse, Makalu, Cho Oyu, Dhaulagiri, Manaslu and Annapurna. Apart from these world renowned mountains, there are other smaller, yet challenging peaks which create wide range of opportunities for mountaineering all around the year. The climbing or mountaineering is guided through professional Sherpas (a member of a Himalayan people known for their skill in mountaineering) and expert mountaineering organizers. Climbing is more popular and accessible form of extreme sports in the Greater Northern regions of the country.
ii) White river rafting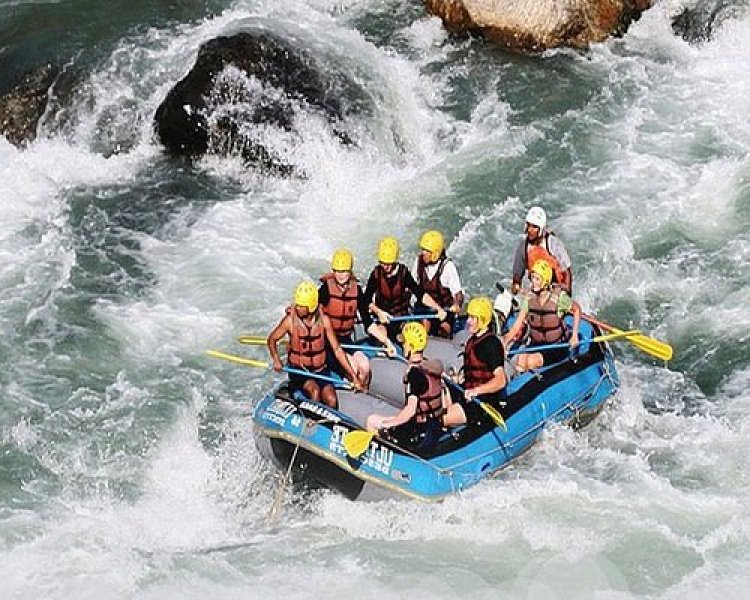 Nepal has always been known as a country rich in water sources. The waters are tumbling down from the snow-capped peaks directly from the mesmerizing Himalayan region which tends to provide high current rivers which are suitable for rafting. For the purpose of rafting, there are numerous preferences and alternatives to choose from, the grading of the river initiates from -4 to 4+. So as per the grading you have the flexibility to undergo and experience the adrenaline you are looking for. Troying, pirouetting and high sliding are some of the most common methods applied during the rafting in Nepal. Here is the list of the rivers where the rafting services are provided in Nepal, they are Seti river, Bhote Koshi river, Kali Gandaki river, Marsyangdi river, Sun Koshi river, Arun river, Karnali river, Tamur river and Trihsuli river.
iii) Trekking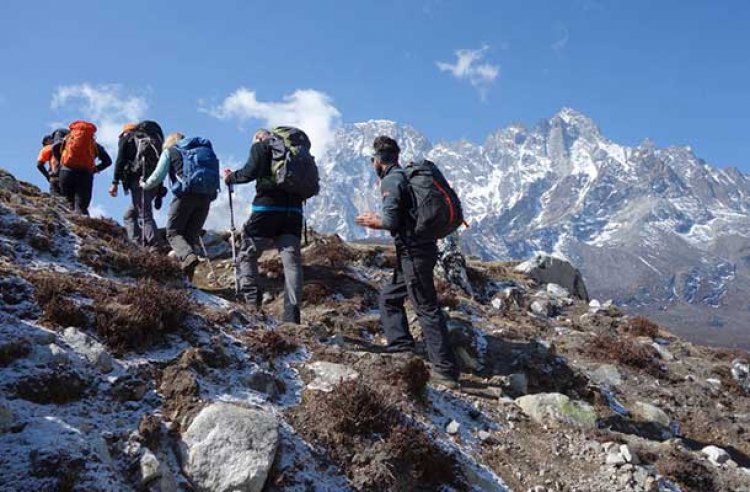 Trekking is considered to be the most enjoyable and desired extreme sport in the country. In Nepal, there are more than 100,000 trekkers visiting the country annually due to the popularity of Nepal for being known for its high-altitude trekking zones. The Nepal Mountaineering Association(NMA) has categorized 33 peaks in total which are suitable for trekking purposes but some of the most popular and internationally recognized peaks are Annapurna, Mt. Everest, Langtang, Mustang, Manaslu, Dolpo, Upper Dolpo, Dhawalaigri, Kanchanjunga and Makalu. And in order to be able to trek in these mountains, you need to get legal permission or permit from NMA. As there is availability of wide range of well trained professionals and expert guides for the purpose of trekking, the cost for the trekking is relatively affordable. Usually the time taken for trekking is from 7 to 21 days in total, depending upon the kind of package deal the participant would choose from.
iv) Rock Climbing

Rock climbing is the most commonly known sport in Nepal, where the participant needs to climb a formation created naturally by the rocks or could also be an artificially designed formation with the intension of reaching the summit or the end point of the formation. Additionally, the participant has the flexibility to go across or climb up in order to reach the goal as the sport consists of the pre-defined route. Most of the rock climbing activities are located in several places in the northern side of Kathmandu and close to Pokhara and in the Everest region. In addition to this, there are other locations given as Nagarjun Balaju, Hattiban, Nagarjun, Chomorong and Khumbu Rock climbing for the interested participants. The sport is provided with numerous skilled professionals and experts to provide the proper guidance and climbing techniques with effective training on safety measures and climbing knots.
v) Mountain Biking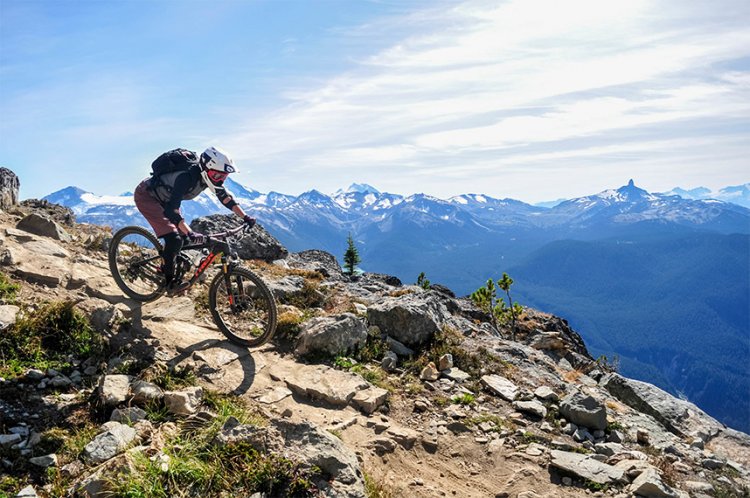 Nepal is basically divided into three belts which are known as the Himalayan region, Hilly region and Terai region, where the basic landscapes include from high altitude Himalaya, the mountain and hills to the flat landscape of Terai. And it's a thrilling adventure and exciting sport for outdoor sport lovers to bike on the hills and the mountains. The naturally made hilly terrains provide the most appropriate and suitable mountain biking experience along with the opportunity to experience the culture and tradition of various ethnic groups residing there. In Kathmandu and Pokhara, you are able to find the most decent and world class bikes on rent and also have the ability to get accurate route information in detail through well-organized tour operators.
vi) Bungee jumping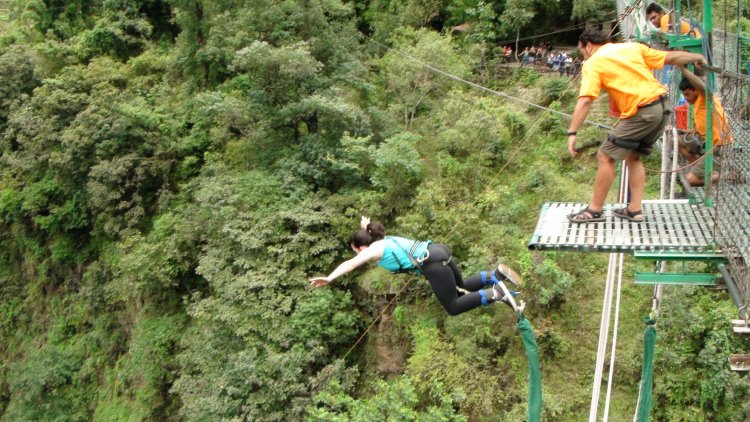 There are two bungee jumping sites situated in two different locations in Nepal. The first bungee jumping site is located in Bhote Koshi, which is close to the border of Tibet and Nepal, where the height is considered to be 160 meters high, right over the wild Bhote Koshi River that is suspending from a bridge. All of the operations and other services provided to the participants in this particular location are taken care by one of the most popular extreme sport hub known as The Last Resort (The Last Resort 2016). The second location for bungee jumping is in Pokhara, which has been in operation since 22nd September, 2014. High Ground Adventures is the company that is responsible for handling all the day to day operations and providing the necessary equipment and facilities to the participants. This is the first bungee jump in Nepal which is facilitated by a tower with the height of 70 meters.
vii) Skiing on snow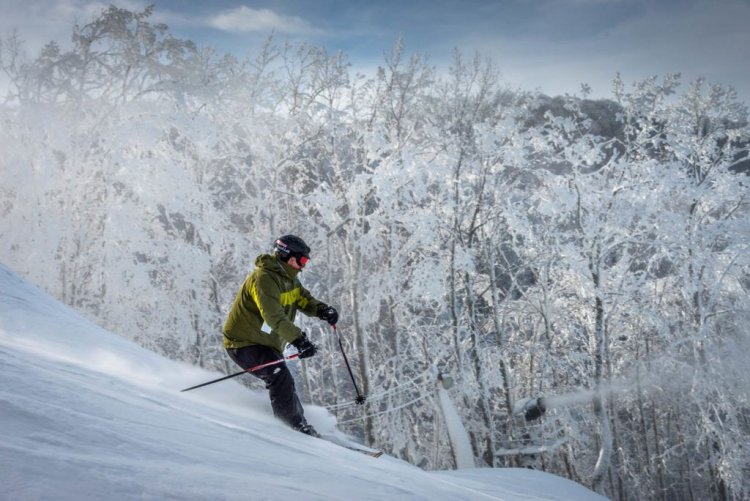 Snow Skiing is one of the newest sports that was practiced in Nepal and was introduced by Europeans. The Himalayas in Nepal provide an extremely exceptional skiing experience unlike the Alps in Europe, the Asian Himalayas can bring a completely different adventure experience. It is a seasonal sport in Nepal that usually takes place during the winter season. Participants have the option to choose from any style of skiing in the snow, some of which are currently trending are alpine, freestyle and boarder cross styles of skiing. Some of the Himalayas that are current hotspots for snow skiing are Annapurna, Dhaulagiri, Makalu, Cho Oyu, Dolpo regions and Everest region. All ski resorts are located 4,000 meters above sea level, where safety measures are given the highest priority and primary concern is the necessary measures to avoid altitude sickness through appropriate acclimatization at lower altitudes. Unfortunately, there are currently no ski resorts operating in Nepal, so skiing must be backcountry and exploratory.
viii) Canyoning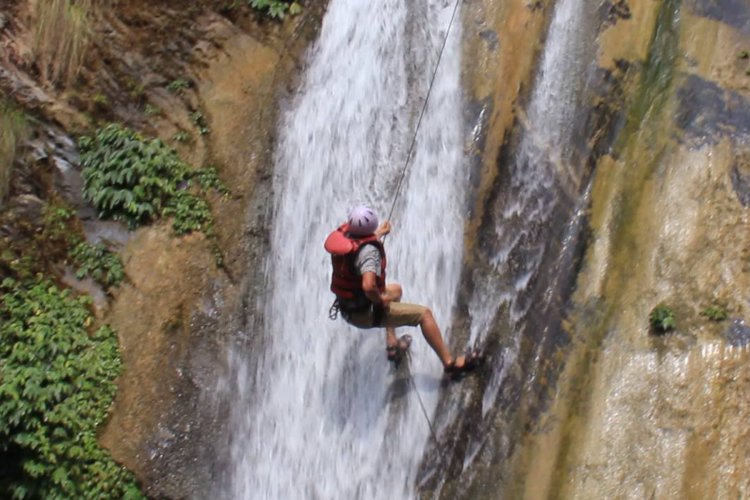 Due to the high altitude, exceptional topography and huge amount of water flowing directly from the Himalayas and mountains, most of the rivers in Nepal provide excitement, thrill and unique adventure for canyoning along with pleasant natural jungles with scenic beauty, karst rocks and many cascading waterfalls along the river. NCA was founded in 2007, ideally dedicated to the discussion, development and communication of new ideas and thoughts between Nepalese canyoneers and international canyoneers from around the world. In addition, NCA has also collaborated with its international partners who have successfully been able to initiate about thirty canyons in Nepal and are currently operational for Canyoning activities.
Conclusion
Extreme sports is definitely a flourishing sports industry and the limits are unlimited as far as extreme sports entertainment can reach. The sport is rapidly gaining mainstream sports status and is gradually being recognized as a commercial enterprise in both the business and sports industries. Also, Nepal also has a great chance to express its beauty around the world and encourage people to do extreme sports. The growing demand for extreme sports can be a major growth opportunity for Nepal.