Popular Places to Visit in Chitwan: Explore Wildlife, Culture and Adventure
Experience the ultimate adventure in Chitwan! From jungle safaris to cultural tours, there's never a dull moment. Discover one of Nepal's most popular destinations today.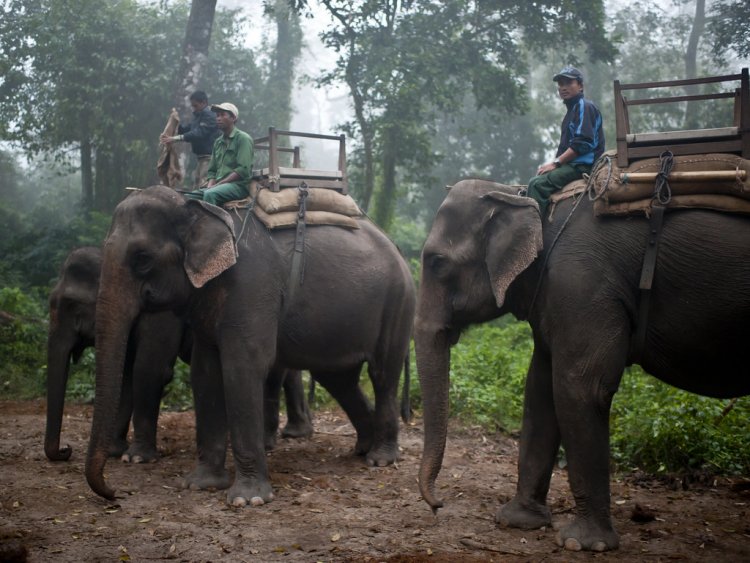 Places to Visit in Chitwan
Chitwan is a district located in the southwestern part of Nepal with an area of 2,238 square kilometers and a population of approximately 579,984 people (as of 2021). Chitwan is the fifth-largest city in Nepal and is known for its rich biodiversity. The district is also known for its vibrant festivals, such as the Tharu festival of Maghi and the Bisket Jatra festival. Tourism is a major industry in Chitwan, with visitors from all over the world coming to explore the Chitwan National Park and its rich flora and fauna.
The most visited and best places to visit in Chitwan are:
Chitwan National Park:
Chitwan National Park is the first national park ever established in Nepal. It is one of the UNESCO World Heritage Sites of Nepal. The park covers an area of 932 square kilometers and is situated in the subtropical Terai lowlands of Nepal. It is characterized by dense forests, grasslands, and rivers. Chitwan National Park is home to a diverse range of wildlife, including the one-horned rhinoceros, Bengal tigers, Asian elephants, and more than 500 species of birds. It is a critical habitat for many endangered species and is recognized as one of the most important reserves in Asia for the conservation of different animals.
Visitors coming into the national park can enjoy a variety of activities, including jungle safaris on elephants or in four-wheel drive vehicles, canoe rides on the Rapti River, bird watching, and guided walks through the park. It is the best place to visit for nature lovers.
Bishazari Tal:
In the Chitwan district, Bishazari Tal is a popular tourist destination. It is not only a single lake; it consists of a group of small lakes and ponds located in a forested area. The area around Bishazari Lake is also known as the Chitwan National Park Buffer Zone and is home to a diverse range of flora and fauna. Bird watching is a popular activity at Bishazari Lake because the lakes and surrounding forests are home to over 250 different species of birds, including several rare and endangered species. Visitors can enjoy hiking, fishing, and boating on the lakes. The chirping of birds and animal sounds made the jungle tour more interesting.
Jalbire Waterfall:
Another tourist destination in Chitwan is the Jalbire Waterfall, also known as Lamo Jharana, a beautiful waterfall situated in the Jalbire River, which originates in the Mahabharat Range and flows down to the Chitwan Valley. It is one of the longest waterfalls (approximately 60 meters high) in Nepal. The waterfall is popular with both locals and tourists who come to enjoy the natural beauty of the area. The waterfall is surrounded by lush green forests and hills, and visitors are advised to take appropriate safety precautions as the terrain around the waterfall can be steep and slippery.
Devghat:
Devghat is a popular religious and cultural site located in Chitwan. It is a holy place for both Hindus and Buddhists and is home to several temples, ashrams, and hermitages. Devghat is believed to be the place where gods Rama and Laxman came to pray and meditate during their exile and is also associated with the Hindu god Vishnu. It is also believed to be the place where the Pandavas from the Hindu epic Mahabharata visited during their exile.
Besides its religious significance, Devghat is also known for its natural beauty and is a popular destination for nature lovers and outdoor enthusiasts. The site is situated at the confluence of two rivers and is surrounded by hills and forests.
Chitwan Tharu village:
Chitwan Tharu Village is the most visited tourist destination in Chitwan, where thousands of visitors come every year to learn about the unique culture and lifestyle of the Tharu people. The Tharu people are known for their colorful costumes and unique dances, and visitors to the village can enjoy a traditional Tharu cultural performance, which includes dance and music.
Since the village is located in the buffer zone of the Chitwan National Park, the Tharus have developed a unique relationship with their natural environment and have developed sustainable farming and fishing practices.
Sauraha Art village:
Sauraha Art Gallery is a popular art gallery located in the town of Sauraha that showcases the work of local and national artists and features a wide range of art forms, including paintings, sculptures, and handicrafts. It is a big collection of traditional and creative arts that represent a diverse range of styles and techniques.Especially for art lovers, it is the most visited place in the Chitwan district.
Elephant breeding center:
The elephant breeding center is another tourist attraction located in the Sauraha region, where it protects more than 20 elephants. The breeding center is home to several elephants. Visitors can get up close and personal with the elephants while learning about their behavior, biology, and conservation, as well as how they spend their days breastfeeding, eating, and sleeping. Visitors to the center can also enjoy elephant rides and take part in the care and feeding of the elephants.
Shiraichuli Hill:
Shiraichuli Hill is one of the highest peaks in Chitwan and offers stunning sunrise and sunset views at its top. Shiraichuli Hill is situated in the western part of Chitwan, near the border with the Tanahun district, and offers panoramic views of the surrounding landscape. Hiking and trekking are popular on the hill, and breathtaking views of the Chitwan Valley and the Himalayan range, including Annapurna, Dhaulagiri, and Manaslu, can also be seen from Shiraichuli hill.
Sauraha Tharu Culture House:
Another popular destination in the Chitwan district is Sauraha Tharu Culture House, a museum and cultural center that preserves and promotes the traditional Tharu culture and way of life. The Sauraha Tharu Culture House is a great place to gain a deeper understanding and appreciation of the Tharu people and their culture. Visitors can watch traditional Tharu dance performances and participate in cultural workshops such as basket weaving, pottery making, and traditional cooking.
Overall, the Chitwan area is a must-visit location for tourists visiting Nepal since it offers a distinctive and varied range of activities, from animal safaris to cultural immersion.