Tourism in Nepal
Tourism industry in Nepal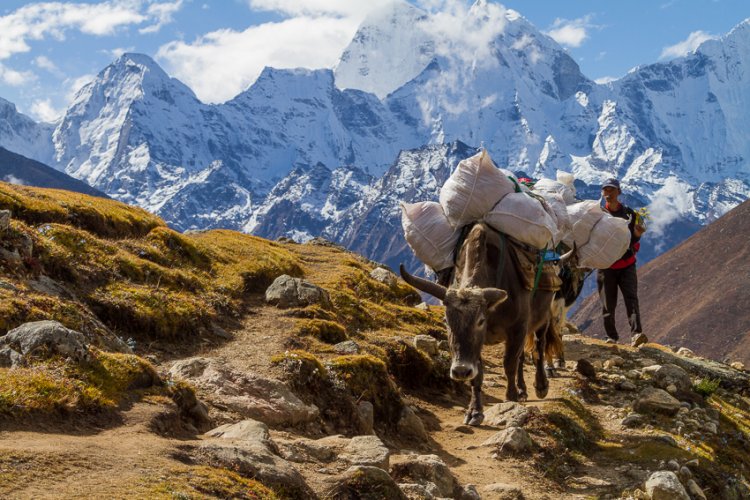 Nepal is a small country, but it has a lot of fascinating natural diversity and is filled with beauty. Nepal is known as a prime destination for tourists. Natural beauty, cultural heritage, unique culture, abundant flora and fauna, snow-capped mountains, and exciting trekking routes are the main attractions for tourists in Nepal. Tourism has become the main source of income in developing countries like Nepal.
"Tourism" definition
In general, the term "tourism" refers to an activity in which a person travels from one location to another within or outside the country in their leisure time and must be involved in economic activity in their destination while not working there.
Development of the tourism industry in Nepal:
The Rana regime lasted 104 years until 1950 A.D. when road networks were built connecting some parts of Nepal to the Indian border. In the 1950s, foreigners started to visit Nepal for trade, climbing, and pilgrimage. Since eight mountains higher than 8000m were explored in 1950 A.D., that year is supposed to be the most important year in the history of tourism in Nepal. In particular, tourism in Nepal started after the first successful ascent of Mount Everest on May 29th, 1953 by Tenzing Norgay and Sir Edmund Hillary. After the successful climb, Nepal started to be a new destination for foreigners. In the late 1960s and 1970s, hippies started to flow in Nepal. During those days, Nepal was famous for hippies as marijuana and hashish were within easy reach. Unfortunately, the Nepalese government banned the sale of marijuana and hashish in 1973, which became a turning point in the history of Nepal's tourism. Despite that, Nepal has developed as a hot spot for adventure seekers and cultural tourists.
In 1998, the Nepal Tourist Board was established to promote Nepal as an attractive tourist destination. The same year, Nepal celebrated Visit Nepal 98. From 1999, tourism started to decline because of the long Maoist insurgency. The historical peace treaty agreement between the Maoists and the government in 2006 was the biggest achievement, as a positive message about Nepal was transmitted to international tourists. The tourism year was celebrated in 2011 for the second time.
The devasting earthquake on April 25, 2005, shook the nation. About 600,000 structures in Kathmandu and other parts of the country were either damaged or destroyed, along with UNESCO heritage sites. Because of that, tourism broke off for some time.
To promote the tourism industry, the government announced the Visit Nepal 2020 campaign to bring in 2 million tourists by the end of 2020. Unfortunately, it was postponed due to COVID-19. According to the economic survey of 2020/21, the number of tourist arrivals in 2020, except Indian tourists, was 230085, which was 81% less than in 2019 due to the COVID-19 pandemic.
The tourist arrival data for different years has been represented below:
Year

Number of international tourists arriving in Nepal

% change from previous year

2010

602867

+18.2

2011

736215

+22

2012

803092

+9.1

2013

797616

-0.7

2014

790118

-0.9

2015

538970

-31

2016

753002

+40

2017

940218

+24.8

2018

1173072

+24.8

2019

1197192

+2.1

2020

230085

-81
Source: economic survey 2020/21
Prospects of tourism in Nepal
Nepal is a haven of pure natural beauty. It has the numerous Himalayas, plenty of beautiful lakes, an attractive dense forest, rare animals, a variety of flora and fauna, and so on, which attract tourists from different parts of the country.
Nepal has a unique cultural heritage. Nepal is a multi-ethnic nation with 60 different ethnic groups living in different parts of the country.
The cost of living and traveling in Nepal is very low in comparison to other countries. Tourists can enjoy and stay here at a very low cost for a long period.
Nepal is a peaceful country where the Nepalese people are very hospitable to tourists. Nepalese people consider tourists gods, as there is a slog in Nepali "Atithi Deba vawa".
Nepal is famous for the White Mountains, as many of the world's highest peaks are located here. Out of 14 world peaks above 8000m, 8 are located in Nepal.
Problems of tourism in Nepal
Although there is a high potential for the tourism sector in Nepal, it is unable to develop properly for the following reasons:
Lack of transportation and communication:
Though transportation is the biggest means of tourism, there is no proper management of vehicles. There is a lot of local and unmanaged public transportation that is run by volunteers. There are no proper facilities for communication or networking for tourists.
Lack of a tourism sector:
Nepal is a beautiful country with biodiversity. But due to a lack of proper plans and policies, many places are not developed and it is not suitable or possible to go there.
There are many tourist areas and beautiful places to visit, but many tourists feel insecure due to a lack of security for them. Many crimes and scams are faced by tourists committed by locals, which decreases our prestige.
Lack of good-quality hotels:
A hotel is one of the essential components for tourists. While it is useful for food and lodging, there are not many well-managed or suitable places for tourists to stay.
There are many popular cultural and popular places for tourism, but they are not managed well. The places are full of dirt and the roads are not well constructed, which decreases the value and specialization of the place.
Importance of tourism in Nepal
The source of foreign currency:
Tourism is also one of the biggest sources of revenue for the Nepalese economy. The country's foreign currency and reserves increase in the country as tourists come to visit in large numbers.
Brain drain is the biggest problem in the country, which is caused by a lack of employment opportunities. Many people get engaged in it and can start their own businesses for employment.
The standard of living is high:
Due to the rise in the economy and development in different sectors, people get more facilities, their living standards increase and life gets better.
When foreigners visit our country, they get to know a lot about our culture and heritage, which is appreciated by them. Culture gets expanded and influenced all over the globe.
Development of rural infrastructure:
For the sake of the tourism sector, many rural and least developed places and infrastructures such as education, health, drinking water, industry, etc get developed and well managed.